Fighting blizzards and barkeeps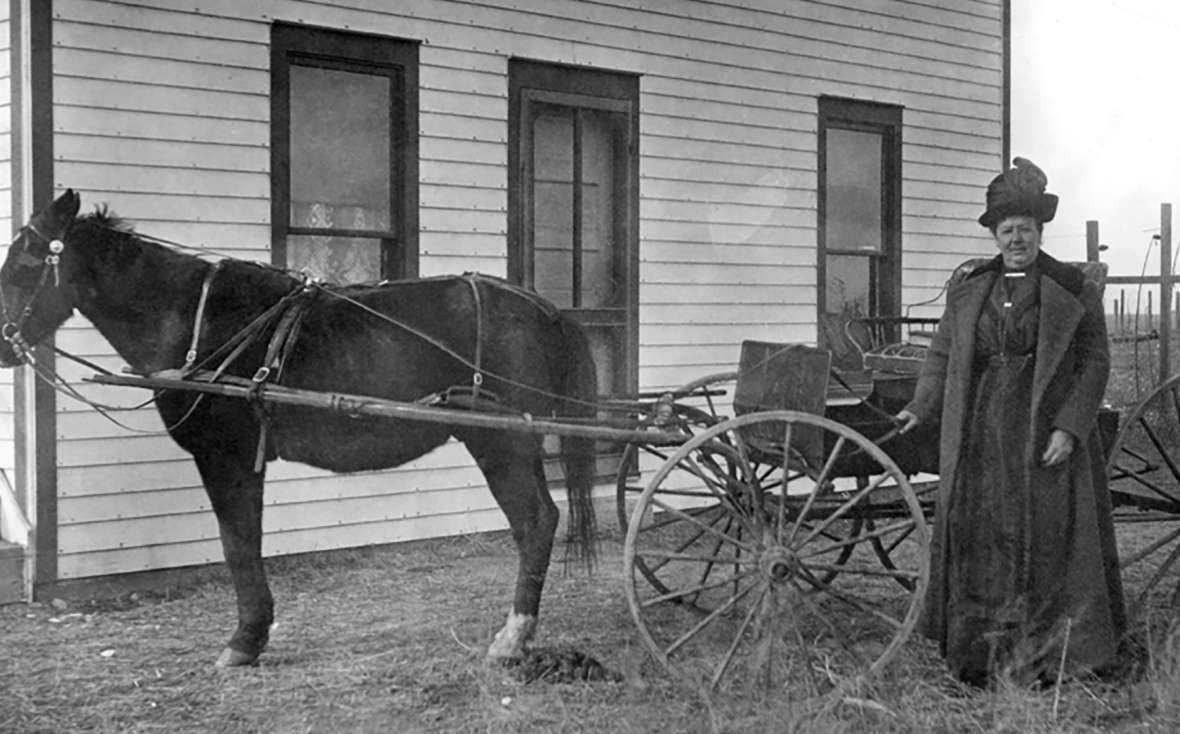 We all know what it's like to be caught in a white-out on the highway. The roadside markers disappear into whirling snow. We can't see the center line, other cars nor even the hood of our own. This, minus the warm, enclosed vehicle with food and water aboard if we've planned well, is what early travelers in Wyoming faced in fall, winter and spring. Sometimes they were horseback, or in a wagon or even on foot.
One such hardy settler was Minnie Fenwick, a Congregational circuit rider serving the small town of Burns and surrounding communities in Wyoming's southeast corner, in the early 1900s. In a blinding storm, Fenwick once walked the three miles from Burns to her family homestead because the weather was so bad that the town stable keeper wouldn't hire her a horse. Her skirts, long and thick, can't have been easy to walk in while clambering over snowdrifts.
On another occasion, while attempting to reach a wedding at which she was to officiate, Fenwick was stranded, unsheltered, in another snowstorm, waiting for her wagon driver to return from a nearby homestead with fresh horses. It was dark, and they nearly got lost because all the fences and other landmarks were drifted over.
Fenwick was a fighter; her cause, prohibition. A longtime member and officer of the Wyoming Woman's Christian Temperance Union, she traveled throughout the state, promoting the organization. Dogmatic and outspoken, she stood with the wives and children of alcohol abusers who drank up the grocery money.
In 1928, when prohibition was law, she appealed to the people of Sheridan after receiving a call for help from a resident. This woman's letter, and Fenwick's reply, were published in the Aug. 22, 1928, Sheridan Journal. "Have you no pity for a poor weak woman who must see her husband come home to her drunk?" Fenwick wrote. "The saloon keepers never did hear the cry of little children and poor broken-hearted wives. They never cared for little helpless half-starved babies. … In a christian country like ours, how can anyone vote for a man who wants just such conditions to exist everywhere[?]"
The Wyoming press reported widely on Fenwick's activities during the 1928 Al Smith-Herbert Hoover presidential race. Former Wyoming Gov. Nellie Tayloe Ross, campaigning for "wet" candidate Smith, was also in the papers that fall, and Fenwick repudiated her. You can read more in our recent article Minnie Fenwick, Nellie Tayloe Ross and the Presidential Campaign of 1928.
Discuss this post on Facebook: