Italian Painters and Prisoners
November 19, 2020
By Laura E. Ruberto 
Editor's note: The author's article, "An Italian painter in a Wyoming POW camp," was published recently on WyoHistory.org.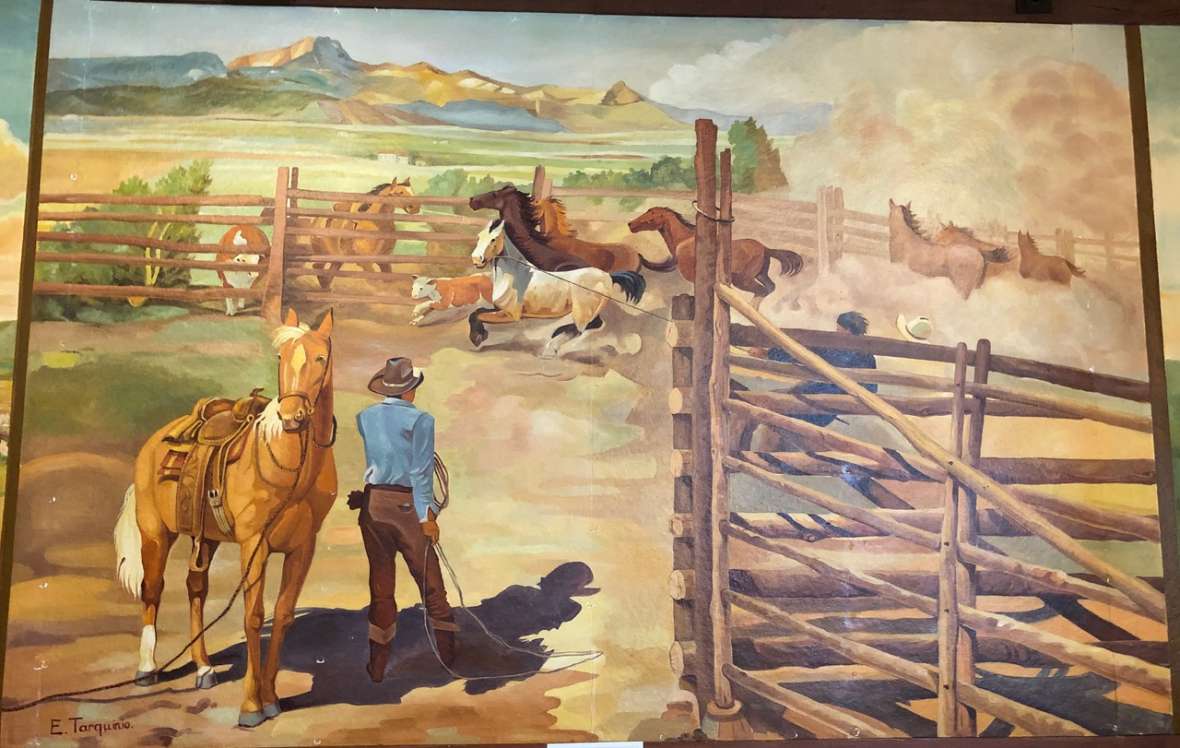 In some way or another I've been curious about Italian prisoners of war since I was a child and heard my own paternal grandfather's stories of having been captured by the British when he was in the Italian army and brought to the United States as a POW. But it's as a scholar of Italian migration history and culture that I have come to understand the complexities and implications of his and others' similar experiences. 
My current research into the Camp Douglas case, supported by a Homsher grant from the Wyoming State Historical Society and a Mellon/ACLS Community College Faculty Fellowship, is part of a larger project about the approximately 50,000 Italian POWs in the United States and the art and architecture they created.  
The Western-themed murals at Camp Douglas are one example of the unique built environments and creative pieces Italian POWs made: They painted frescoes in churches, crafted small items like jewelry and toys, and built large-scale structures, such as chapels and dance halls, often using salvaged or donated materials. These constructions reflect the makers' cultural experiences as well as the realities of their confinement, ambiguous political circumstances, and complicated relationships to communities within and beyond the borders of the camps.
Given my disciplinary focus on Italian migration and the study of material culture, my approach to POW art highlights the significance of identity in creative expressions, a perspective illustrated by the story of Enzo Tarquinio, one of the Camp Douglas muralists I wrote about for WyoHistory.org.
Trying to do archival research of military records in the United States and Italy during a global pandemic has been challenging. Nevertheless, a road trip I took this past fall—crossing three state lines and 2400 miles round trip in four days with my fearless sister, Beatrice Ruberto, and a carload of hand sanitizer—was quite fruitful. For starters, the adventure led me directly to connect the smaller pieces of art at Camp Douglas with the large murals, which in turn steered me to Tarquinio's family in Italy and his life story. Beyond that, having had an opportunity to study the murals on site will help me to connect dots further and hopefully uncover the identities of the other two muralists, L. DeRossi and V. Finotti. 
And, of course it was my good fortune to have such an occasion to take in Wyoming's stunning landscapes of mountains and wide-open plains, geographies the Italian POWs probably only saw briefly from a train window although they lived around and imagined them on their canvases.