Lynching, a Family and the Law
By Rebecca Hein
Why would a man portrayed as respectable participate in a lynching? For years I didn't think about this, although the question had been floating in front of me since childhood, when I read and re-read Laura Ingalls Wilder's "Little House" series.
In 2014, at age 58, I read lawyer/historian John Davis' WyoHistory.org article on the 1909 Spring Creek Raid, a bloody episode in which seven cattlemen killed three sheep ranchers, kidnapped two others and slaughtered sheep and sheep dogs near Spring Creek south of Ten Sleep, Wyo. This led me to Davis' book, Goodbye, Judge Lynch. In this book I learned that White-on-White lynchings were common on the American frontier, sometimes even after a criminal justice system had been established.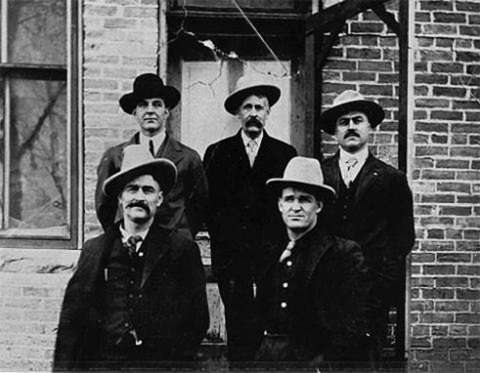 Davis details the transition from vigilante action to organized, effective law enforcement in Wyoming's Bighorn Basin. During this transition, honest people apparently mistrusted the developing law enforcement system, and not just in Wyoming. In addition, they improvised their own legal procedures where there were none.
I learned from Wilder's book, By the Shores of Silver Lake, that when the Ingalls family first came to the future site of DeSmet, S. D., there was no county and therefore no law enforcement. A friend of Charles Ingalls, Robert Boast, needed to collect a debt from a man unlikely to pay unless forced. One of their acquaintances acted as "sheriff" and Pa (Ingalls) drew up the papers. It's a lighthearted episode, and Boast collected his money.
Later that year, when the town was being built, settlers were also building on the claims they had filed on that spring.
One day, Pa walked into the Ingalls house in town, announcing, "There's been a murder."
"Ma's eyes opened wide and she caught her breath. She said, 'Here?'"
"'South of town. … A claim jumper killed Hunter. … [His father] got to Mitchell and brought officers out this morning, and they arrested the fellow. Arrested him!' Pa said furiously. 'Hanging's too good for him. If we'd only known in time!'"
"'Charles,' Ma said."
Clearly, Pa intended to help lynch the man, if law enforcement hadn't intervened and, just as clearly, Ma disapproved. But the full meaning of that exchange between Pa and Ma escaped me until I learned from Davis more about the history of lynching on the American frontier.
Until recently, with the exception of White-on-Black lynchings, I also didn't think closely about the fact that anyone who participates in a lynching becomes part of a mob, with all that implies. Lynchers—however law-abiding they might be otherwise—violate the right of everyone to a fair trial  and judgment by a jury of their peers. That is, lynchers become themselves criminals, and this would have included Charles Ingalls, had he taken part.