Stagecoaches, mud wagons and rocky roads
By Rebecca Hein
Imagine traveling through a major Wyoming blizzard in a horse-drawn sled. You could die, and some people did. Stagecoach companies substituted sleds for coaches in bad weather, and in the January storm of 1883, four passengers froze to death on the route from Green River to South Pass City.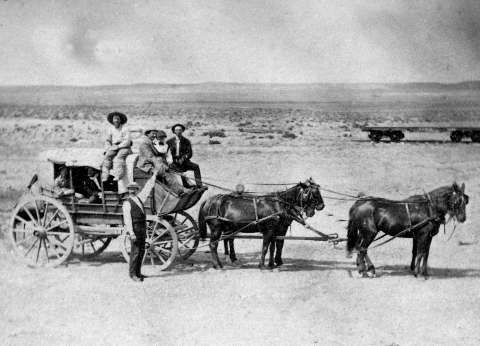 The completion of the Union Pacific Railroad through southern Wyoming Territory in 1869 facilitated travel through that part of the state. But to settlements north of the railroad, passengers and mail traveled by stagecoach. Freight went by wagon, and all roads were rough.
The government had to supply the Eastern Shoshone and Northern Arapaho according to its treaty obligations; supplies for their reservation on Wind River and for Fort Washakie, the military installation there, were hauled first from Bryan and Green River, and later from Rawlins.
Corrupt mail contractors plagued the U.S. Postal Service. Among many questionable tactics, artificially low bids were common. A single contractor, submitting rock-bottom bids under different aliases plus a few higher bids, could capture a contract, then declare the cheap mail-delivery effort a failure, forcing the Post Office to accept a higher bid. Underfeeding their horses and not delivering mail to given locations as often as required also helped dishonest contractors skim money off their fees.
Stagecoach passengers sometimes had no idea what to expect on the route, and regularly endured terrible meals—if any—poor drivers and,  perhaps worst, dangerous stations such as the saloon at Rongis, on the Sweetwater River about three miles west of present Jeffrey City. More than one murder occurred there, despite the efforts of the more or less law-abiding owners.
It all added up to conditions we can hardly imagine today, with our comfortable cars, excellent highways and, in our larger towns at least, motels and food. Thanks to the National Weather Service, we can also minimize weather-related risks. Do we know how good we have it? Read more about the "good old days" in our recent article with longtime stage-route and postal-service scholar Tom Davis, "Freight, Stage and Mail: The Rawlins-Fort Washakie Road."