Treasures in a Piano Bench
By James H. Nottage
The Lowery Music Studio in Laramie during the late 1950s and early 1960s was actually our living room on 15th street. There, our mom offered player pianos and organs for sale and gave music lessons on piano and accordion. I remember stacks and stacks of sheet music hidden under the hinged lids of piano benches. The music and its colorful covers represented all kinds of styles and tastes from the greater American song book. As a child, I was fascinated.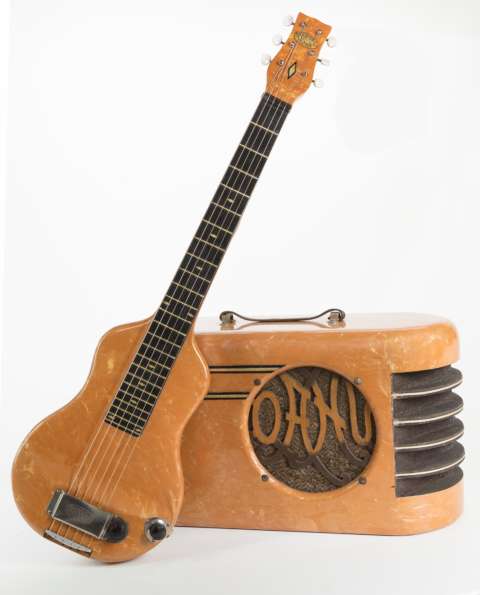 If we could explore the layers of sheet music in any piano bench of the past, what could we find? They'd surely tell something of the pianist's household. What composers, styles of music and performers are present? What tastes are here? Does some of the music appear well-worn and is some seemingly untouched? Are there clues to who promoted the music or maybe where it was bought? Does any of the music come from other cultures? Can we imagine someone playing the music for recitals, family gatherings or just plain fun?
Sadly, piano-bench contents come and go and there is little opportunity to study them intact. Fortunately, there is plenty of scattered evidence. We can explore and assemble the history of popular music in Wyoming and quickly learn that everything from classical to jazz, to polka, to anything else you might imagine has had a place in a state commonly identified with cowboys. 
In my own case it has been an adventure to delve into the place of Hawaiian music in Wyoming through newspaper and magazine ads and articles. Photographs, records, music programs, individual song sheets and oral histories offer more insights. We can trace how island music came into the state through fairs, television, radio, record players, live performances and now computers. Each of these leaves records.
My own story—how I came to study the phenomenon of Hawaiian music in Wyoming—is different.
A long career as a museum curator gave me many ways to study the history of the guitar. I had the privilege of serving as chief curator of what is now called the Autry Museum of the American West, located on the edge of Griffith Park in Los Angeles. In the late 1980s, the singing-cowboy star Gene Autry was still very much alive and able to enjoy the namesake institution that he and his wife Jackie made possible.
One day as I walked through collection storage with Mr. Autry, we talked about some of the instruments associated with his career. I opened the battered case of a Gibson EH-150 lap steel guitar and asked if there was any particular history tied to the instrument. Mr. Autry's memory was sharp and without hesitation he noted that it had been played by Perry Botkin, Sr., (his papers are at the American Heritage Center at the University of Wyoming) an accomplished musician and multi-instrumentalist who in the 1920s began a career recording and performing with the likes of Glenn Miller, Benny Goodman, Paul Whiteman, Bob Hope, Spike Jones, Roy Rogers and Bing Crosby. 
Botkin was the portal leading to my interest in the history of the steel guitar and to taking lessons on how to play the steel. I quickly learned that the instrument holds an important place in all kinds of music, including Western swing, jazz and rock and roll. It's also important to the history of the guitar more generally. The first successful electric guitar was a lap steel created in California. Much of the history of the modern guitar generally was based in the American West through firms such as Rickenbacker, Fender, Weissenborn, Knudsen and Dobro. 
Of course, the story of Hawaiian music in Wyoming is a small chapter in the rich and varied musical history of a fascinating state and region. It is only one of many forms of popular music to inspire and entertain people here to become part of our collective memory. And so it helps us understand how Wyoming relates to the world.