Two Deer Creek Christmases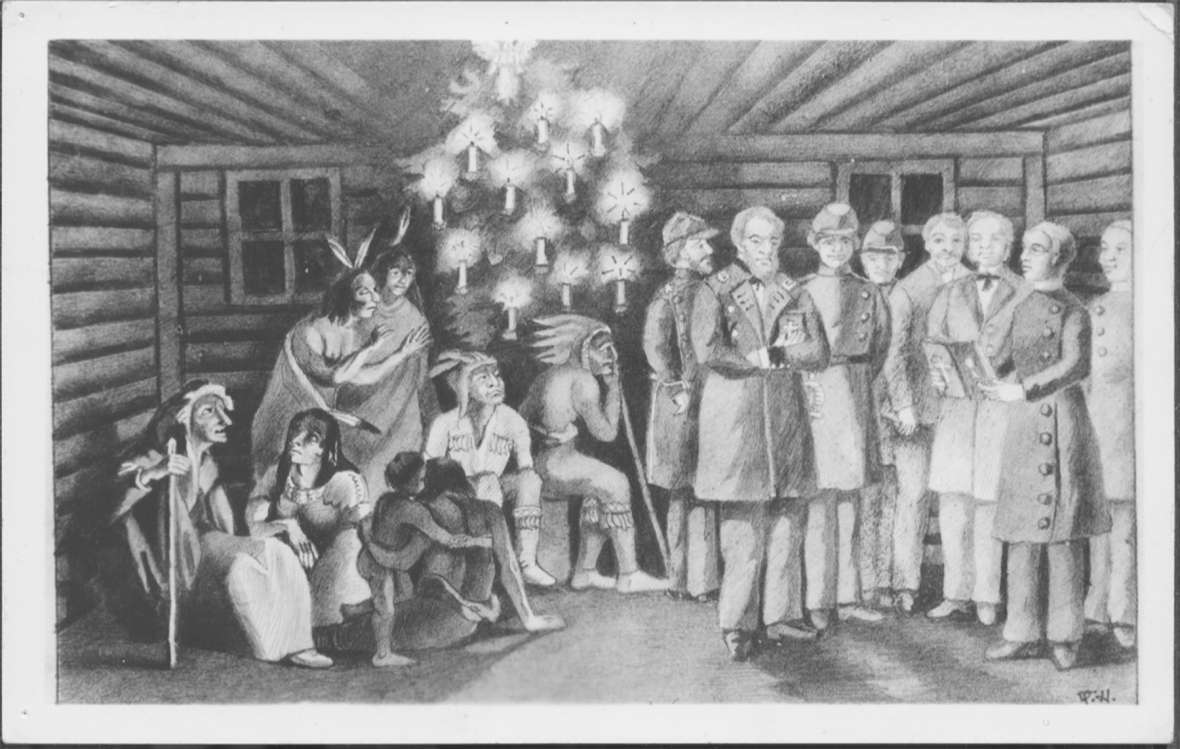 Lighted candles warmed what may well have been Wyoming's first decorated Christmas—before there was a Wyoming. The candles are a German tradition—they're part of the winter warmth and light that the carol "O Tannenbaum" recalls. At Christmas 1859, a lighted tree filled most of a small log building on Deer Creek, about two miles upstream from creek's mouth at present Glenrock, Wyo. 
Packed closely around were some army officers, a Native family and a few German Lutheran missionaries. Missionary Moritz Braeuninger read from the Scriptures. Capt. W.F. Raynolds, his officers and the Indians, at least as shown in a sketch by one of the missionaries, all listened closely. The Oregon Trail ran nearby. Downstream at the mouth of Deer Creek on the North Platte was a busy stage station and trading post.
Government exploration, Indian business and high hopes had brought these people together. Raynolds was leading a small, two-year expedition of soldiers and civilian scientists from the U.S. Topographical Engineers to explore regions drained by the Yellowstone River, and had come down to the North Platte from the Yellowstone as winter was closing in. In 1857, a group of Mormons had begun building a stage and freight depot on the site for a planned West-wide operation to be owned and run by the Church of Jesus Christ of Latter-day Saints. Later that year, as the U.S. Army marched toward Utah to re-establish federal control there, the Mormons abandoned the place.
In 1858, the independent-minded Thomas Twiss, U.S. Indian agent to the tribes of the upper North Platte, had moved his agency 100 miles up the river from Fort Laramie and established it on Deer Creek in buildings the Mormons had abandoned. As a result, by 1859, there were always likely to be tribal people there, who had business at the agency. And the Lutherans were there because they hoped to save the Indians' souls.
Badly underfunded, speaking very little English, the missionaries that first winter relied on credit from trader Joseph Bissonette at the trading post and on extra rations and living space in the former Mormon buildings shared with them by Twiss and the Raynolds party. The following summer, the missionaries tried to establish an outpost to proselytize to the Crow tribe on Powder River, 100 miles to the north. They didn't understand that Crows and Lakota Sioux were often at war, however, and after some misunderstandings one of the Germans was killed by Lakotas. The rest retreated back to Deer Creek, and kept a mission going there for four more years, some of that time traveling with Cheyenne bands, but converting very few.
We have an account—and another sketch—of Christmas on Deer Creek in 1863. By that time three Cheyenne boys had converted; their translated names were Brown Moccasin, Little Bone and Owl Head. The missionaries described them as orphans, though their families seem to have objected. "On Christmas eve 1863," historian James Nottage reports in his article on WyoHistory.org, "the boys were enthralled by a tree decorated with candles and happily received presents, including harmonicas, which they played late into the night. On Christmas Day, the youngest boy, Brown Moccasin, was baptized and renamed Frederick B. Sigmund Christopher. Little Bone's baptism followed the next Easter. He was renamed Paul."
Things did not turn out well, especially for the boys. But those two Christmases can still remind us of the complex motives and forces that were always mixing people and peoples in unlikely ways in those times — and ours. Maybe they can help us remember: However we got here, we're all in this together. Merry Christmas from WyoHistory.org.