Background for teachers and students:
The last engagement of the Indian Wars, at Wounded Knee, S.D., in 1890, had occurred less than a quarter of a century before the outbreak of World War I in Europe. Most American Indians were not citizens of the United States when the nation entered the war in 1917, and in the minds of many white people who still remembered the Indian Wars, native people's loyalty and patriotism were suspect.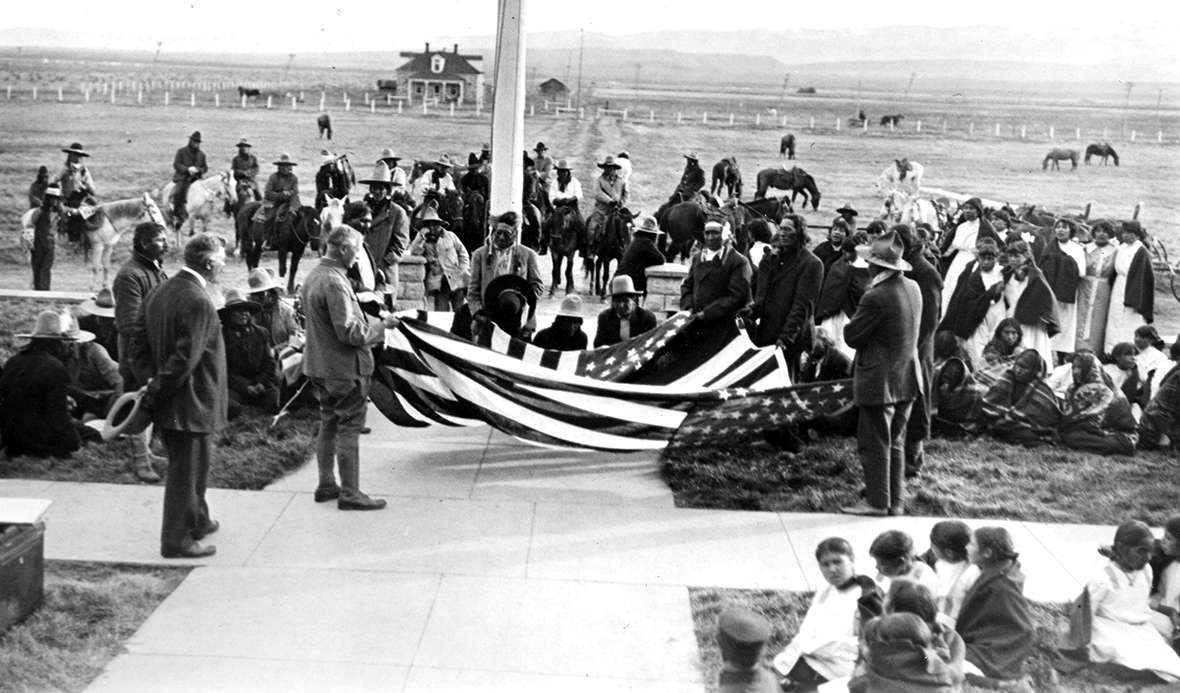 Part One: The Expedition for American Indian Citizenship
In 1913, the Expedition for American Indian Citizenship, funded by department store magnate Rodman Wanamaker of Philadelphia, Pa., and conducted by his assistant, the photographer Joseph K. Dixon, visited 89 Indian reservations to build what Wanamaker thought of as patriotic relationships. The purpose of this was to generate support for a large Native American museum and monument to be built on Staten Island in New York City, and also to prove that Native Americans were patriotic and interested in assimilating into American culture. On October 19, 1913, Dixon visited the Shoshone Reservation—now known as the Wind River Reservation—in Wyoming.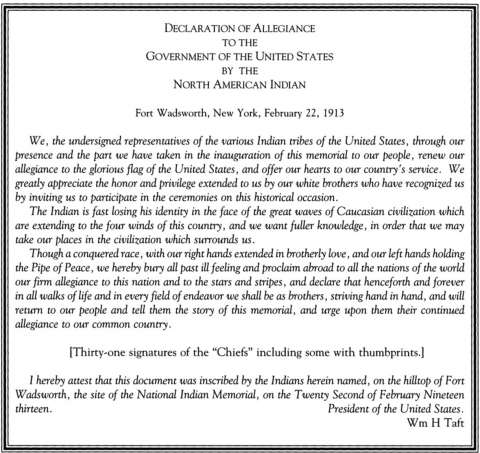 At that time, Dixon, Wanamaker and many other people in America and in the U.S. government believed American Indians were a "vanishing race," and that the only hope for their survival was for them reject or avoid traditional ways and assimilate into mainstream culture.
Dixon's expedition brought an American flag, wax audio recordings—predecessors of today's compact discs—of President Woodrow Wilson and Rodman Wanamaker making brief remarks and what amounted to a loyalty oath for the Native Americans to sign. Called a "Declaration of Allegiance to the Government of the United States by the North American Indian," the pledge noted, "We greatly appreciate the honor and privilege extended to us by our white brothers who have recognized us by inviting us to participate in the ceremonies on this historic occasion."
It is important to note that during this time and even later, during the Great War, American Indians were not American citizens. Although the monument and museum were never built, Dixon nevertheless generated widespread popular interest in Native Americans, and it is quite likely that this expedition helped galvanize support for the Indian Citizenship Act in 1924.
The article linked below, "Touring the Reservations: The 1913 American Indian Citizenship Expedition," offers substantial background on the topic for teachers and for students 8th grade and up. The article may be demanding for 6th and 7th graders. It will be especially useful for background for the first two citizenship and photograph exercises.
Read Touring the Reservations: The 1913 American Indian Citizenship Expedition
Exercises
1. Citizenship exercise.
Share with students the pledge for citizenship presented to Indians in 1913. Discuss and have students write and sign their own pledges. Ages 4th grade through 12th grade.
2. Photograph exercise:
Examine the photograph of the flag ceremony on the Shoshone Reservation in Wyoming, 1913, part of the Expedition for American Indian Citizenship. Click here for a photography analysis page to answer questions that will help you think about the picture. Write a brief essay about the fact that most American Indians were not U.S. citizens in 1913. Use examples from the text of the article, the pledge or the photograph—or other photographs in the article-- to defend or explain your answer.

Part Two: Code Talkers of World War I
Native Americans, even though they were not yet citizens of the United States, joined the war effort in a variety of ways, including as code talkers. Perhaps the most famous code talkers are the Navajo code talkers of World War II, but the code talkers' history actually stretches back to World War I with Cherokee and Choctaw soldiers serving in this capacity. Although there were not many Native American code talkers, their codes were unbreakable by the German forces. These codes were relayed via telephone and allowed American forces to communicate battlefield positions, orders and supply information quickly and efficiently without compromise. The Choctaw language did not have words for "machine guns" so they substituted terms for "fast shooting gun." "Scalps" were casualties, a "grain of corn" was a battalion and a "stone" was a grenade.
Although there were no code talkers from Wyoming who served in World War I, their efforts certainly affected Wyoming troops and the war itself. Only recently has the U.S. government declassified the efforts of Cherokee and Choctaw code talkers. In 2013, the Cherokee nation was awarded the Congressional Gold Medal, one of the United States' highest civilian honors, for the services of its code talkers to the United States during World War I. Citizenship is not a requirement to achieve this impressive recognition.
Exercise
Code Talkers: Create a Code
Suitable for 4th grade through high school.
Students will need paper and a pencil to complete this activity. Have each student partner with another and ask each student to select a well-known story such as a fairy tale, Disney movie or another familiar tale. Make sure that they do NOT share this story with their partners.
Now, ask each student to come up with symbols, letters, or word phrases. For example, use the word "stones" in place of the word "grenades." Tell the story in 500 characters or less. The partnered students can then try to break their partners' codes to translate the stories.
Some discussion questions would be: Why did you pick these symbols (letters, or word phrases)? Was this easy to decipher? Was it difficult to create your own code?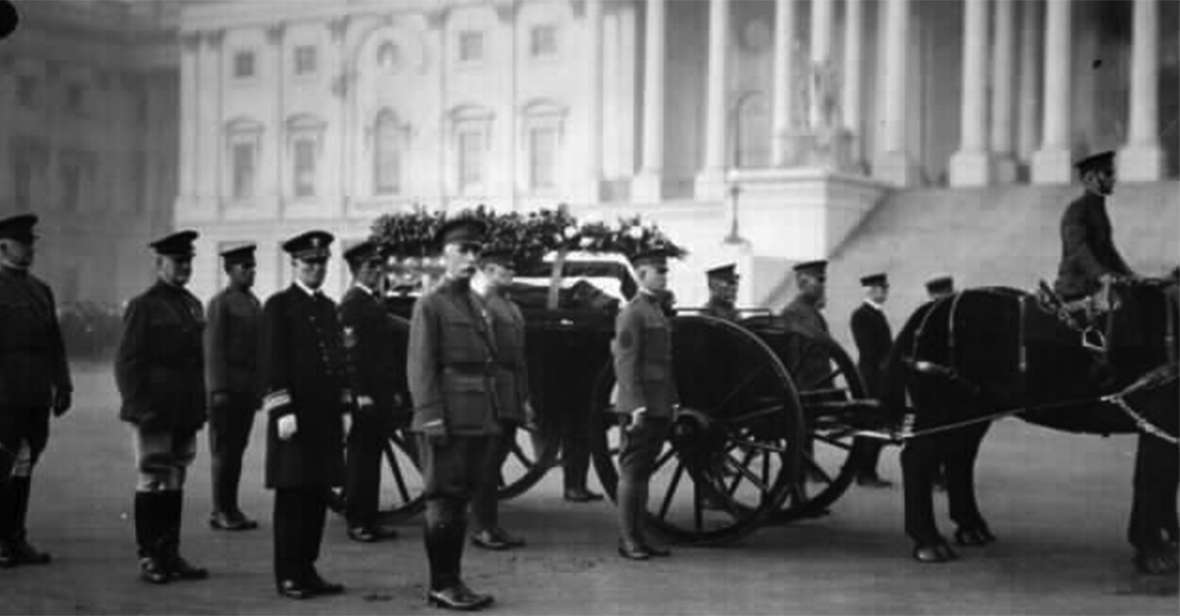 Part Three: Remembering a Heroic Wyoming Indian Soldier
One of Wyoming's most decorated World War I soldiers was Thomas Saunders, a Northern Cheyenne Indian, born in Medicine Bow, Wyo. Although not much is known of him, here is what we do know:
Saunders served in Company A, 2nd Engineers, 2nd Division. He was born in Medicine Bow on April 28, 1892. He enlisted in Cheyenne. He was wounded during the Battle of Château-Thierry in France in July 1918.
Cpl. Saunders was the recipient of the Distinguished Service Cross for heroism in action at Jaulny, France, on Sept. 12, 1918. With another soldier,  Saunders cut his way through a barbed wire entanglement, led the advance into the Town of Jaulny, and captured 63 Germans! He was the recipient of France's Croix de Guerre (with Gold Star) for leading a patrol under heavy fire on Oct. 8, 1918, at St. Etienne-a-Arnes (Blanc Mont), France. His commanding officer noted of Saunders: "This soldier has shown himself under trying situations to be far above his comrades, in all operations requiring alertness, coolness, and dependability, backed by fearlessness."
After the war, Saunders remained in the U.S. Army. He was still on active duty at Fort Riley, Kan., in 1920, and by 1930 was a staff sergeant at Fort Logan, Colo. By 1940, he was living in Los Angeles, Calif., and was employed by the U.S. Army Corps of Engineers.
Saunders served as one of the six pallbearers of the Unknown Soldier at the opening dedication Ceremonies at the Tomb of the Unknown Soldier at Arlington National Cemetery on Nov. 11, 1921. He died at Los Angeles, Calif., on Nov. 15, 1947, and is buried at Golden Gate National Cemetery. Use specific examples from what you've learned about his life and times to explain your answer.
Exercise
Remembrance and Memorialization
Suitable for high school students.
Discussion: What important events would you memorialize, and how? How do you think Cpl. Saunders might have felt, as an American Indian, to be selected for this honor? Saunders was selected as a pallbearer for the Unknown Soldier while he himself was not an American citizen—how do you think he would have felt about that?
Resources
Illustrations
The photos of the flag raising ceremony, the image of the loyalty pledge and the photo of the ceremony at the Tomb of the Unknown Soldier are from the collections of the Wyoming Veterans Memorial Museum. Used with permission and thanks.
[Editor's note: WyoHistory.org is pleased to offer this and other lessons on World War I, prepared for classroom use by the staff at the Wyoming Veterans Memorial Museum in Casper, Wyo., with support from the Natrona County Recreation Joint Powers Board. For more information on tours and other educational materials and activities, contact museum staff via the link above.]