Area 7: Industrialization and Progressivism (1880s-1920s)
Question: How did economic growth affect the quality of life within the U.S.?
Lesson Plan Developed By
WyoHistory.org
Grade Level
8-12
Content Area(s)
Social Studies
English
Learning Objective(s)
1. Students learn about the history of water development in Wyoming
2. Students learn about early Bureau of Reclamation projects in Wyoming
3. Students report on some of the early activities overseen by the Wyoming State Engineer
Standards 
Click here to see a spreadsheet aligning Wyoming State Social Studies and Common Core Standards for this and other digital toolkits of Wyoming History.
We will update the standards spreadsheet as more lesson plans are developed.
Length
One 45-Minute class period
Materials Required
Resource 1: Summary
Resource 2: Article
"Watering a Dry Land: Wyoming and Federal Irrigation"
Resource 3:
"Thirteenth Biennial Report of the State Engineer to the Governor of Wyoming, 1915-1916."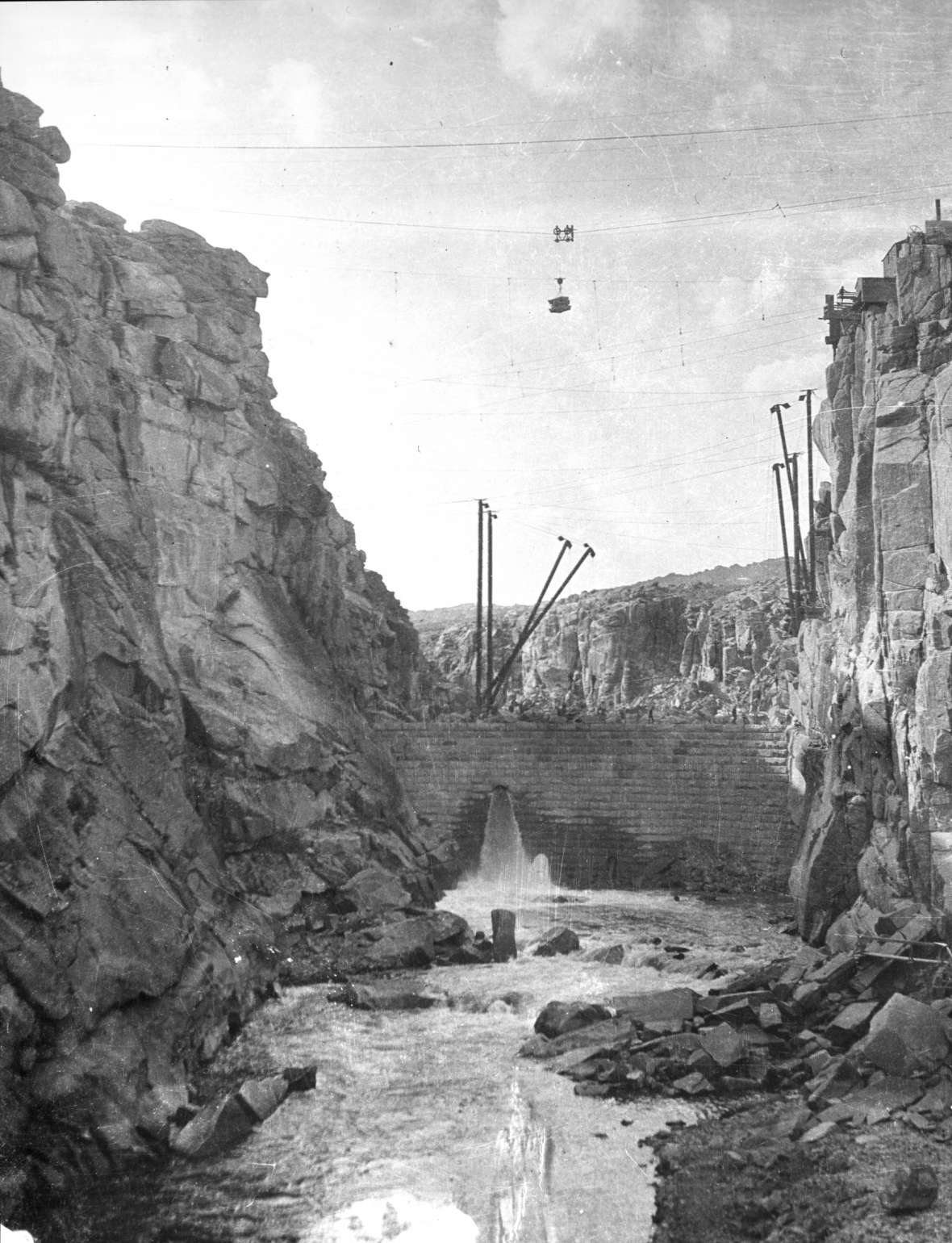 Lesson Plan
Introduction
The exercise asks students, after reading the summary and the longer article, to read brief excerpts from the Thirteenth Biennial Report of the State Engineer to the governor of Wyoming, 1915-1916; to list some of the facts and figures reported by one of the regional project managers; and briefly review the history of a project he was in charge of.
Plan
Open the "Thirteenth Biennial Report of the State Engineer to the Governor of Wyoming, 1915-1916." Go to page 81 of this report by entering "Shoshone Project" just above the title page of the document in the box between Search in this Text, and Find. When you click Find, this will open a page of search results; click on the top result, Page 81.
Read the first two paragraphs under the heading, Shoshone Project Development During the Years 1915-1916, by George O. Sanford, Project Manager. (Sanford was a federal employee, whose annual report was included in the state engineer's report. Remember that the Shoshone Dam was later renamed the Buffalo Bill Dam. "Opened to entry" means the land was made available for purchase on easy terms to farmers in 160-acre plots; they then paid for the water separately.) 
What do these two paragraphs say about the Garland Division of the Shoshone Project? To start your answer, make a list of the facts and figures Sanford reports. Then write a 250-300 word essay about the history of the Garland Division, based on your list and other information from these paragraphs.
Closure
Study and discussion questions:
George O. Sanford, Project Manager for the Shoshone Project (later renamed for William F. Cody), stated, "The Reclamation Extension Act, which extended the payment of construction charges over a period of twenty years, brought about a decided increase in the rate of settlement." Why do you think the Act increased settlement on the land?
The federal government, not Wyoming, paid for the construction of the Shoshone (Buffalo Bill) Dam, at an initial cost of about $1.4 million. After the dam was built, still more money was needed for canal building and maintenance, supervising and record-keeping of settlement and other water-management jobs. In the two fiscal years preceding Garland's report the bureau spent an additional $400,000, he notes. Was the Shoshone Dam a good idea for Wyoming? Why or why not? What economic activity or activities did it make possible?
 
Read
Resource 1: Topic Summary
Homesteaders who moved to Wyoming and other parts of the arid West discovered that rainfall was not enough to water crops for people or feed for livestock. Unless they lived next to a river or creek—and these parcels were taken early—settlers could not make a living off the land. Recognizing the problem, on Aug. 18, 1894, Congress passed the Carey Act, named for Wyoming U.S. Sen. Joseph M. Carey.
Under the Carey Act, up to one million acres of public land was available free to Wyoming and other Western states, provided that revenues from the sale of that land were spent on irrigation projects. Around that time, two private developers, William F. "Buffalo Bill" Cody, and Sen. Carey, planned separate projects near the future towns of Cody and Wheatland, Wyo. However, they soon discovered how difficult it was to get investors, and how expensive dams and canals would be to build. Large-scale irrigation needed much more capital and a stable source of funding.
In 1902, Congress created the U. S. Reclamation Service, later named the U.S. Bureau of Reclamation. Its purpose was to build dams on Western rivers to irrigate farm lands near the reservoir created by the dam. The law required those who used the water to help pay for the project that benefited them.
William F. Cody and his investors turned their Shoshone irrigation project, which contained miles of ditches and canals, plus farmers depending on them, over to the Reclamation Service in 1904. The service financed and built a large concrete dam in the canyon upstream from Cody. Reservoir water from this well-built dam, later renamed Buffalo Bill Dam, irrigated 25,753 acres of Bighorn Basin farmland by 1915. Farms in this area still grow profitable crops, with more than 93,000 acres in production. A power plant was completed in 1922, and today Buffalo Bill Reservoir and its state park offer camping, fishing, boating and other outdoor recreation.
Pathfinder Dam on the North Platte River in central Wyoming about 45 miles south of Casper, was completed in 1909. Designed mostly for flood control and to store water reserved for Nebraska irrigators, the dam also generates electricity and provides some recreational opportunities.
Anchor Dam, built in the 1950s on Owl Creek in the southwest corner of Bighorn Basin, never held much water, but cost more than $7 million to build and repair. (A small dam can cost up to $20 million or more.) The other nine Wyoming dams, built between 1927 and 1964, were more successful, although over time, irrigation brought in much less money than did hydropower and recreation.
Resource 2: Article
The article "Watering a Dry Land: Wyoming and Federal Irrigation" offers substantial background on the topic for teachers and for students 8th grade and up. The article may be demanding for 6th and 7th graders.
Resource 3: "Thirteenth Biennial Report of the State Engineer to the Governor of Wyoming, 1915-1916." 
 
For further reading
Primary Sources
Secondary Sources
Illustration