Area 8: The U.S. During the First World War (1910s-1920s)

Background for teachers and students:
On June 18, 1916, the Wyoming National Guard was activated for service on the Mexican Border. George Ostrom, then 28 years old, was a staff sergeant and the bugler for Company D, from Sheridan, Wyo. George Ostrom left his beloved colt, Redwing—"a very beautiful sorrel, two white stockings and silver mane and tail and a blazed face," he remembered years later—in a pasture at the family homestead 20 miles east of Sheridan. He trained at Camp Kendrick in Cheyenne from June to September 1916 and then served at Camp Deming in Deming, N.M., from Sept. 30, 1916, through March 1, 1917, before the guard unit was sent home.
Three weeks later, he was back in federal service for World War I, and his guard unit was absorbed into the 148th Field Artillery regiment. In France between July and November 1918, the regiment took part in every major campaign of the American Expeditionary Force (AEF)—the name for the U.S. Army overseas.
Staff Sgt. Ostrom was also an artist. During his wartime service with Battery E, Ostrom created the first rendition of the now-familiar silhouette of a bucking bronc. He had managed to smuggle Redwing with him to France, and based the image on his colt. Ostrom's iconic emblem, used on 148th Field Artillery guns and vehicles during the Great War, as World War I was called at the time, eventually became our state's symbol.
Throughout his military service on the Mexican border and in France, Ostrom prepared nearly 20 drawings showing both combat and camp life in precise detail. George generally made these sketches in pencil, and then finished them in ink after the war. Today, his sketches are considered to be a national treasure of soldier art. He is one of Wyoming's leading artists.
Following his discharge, George returned home to Sheridan. He painted highway billboards and signs for the city of Sheridan as well as creating a considerable amount of Wyoming and wildlife artwork. George remained active in veterans' organizations and bands. He died in Sheridan in 1982 at the age of 97. His relatives still live in Sheridan.
The article linked below, "George Ostrom's War: A Wyoming Soldier Serves in France," offers substantial background on the topic for teachers and for students 8th grade and up. The article may be demanding for 6th and 7th graders. It offers thumbnail links to 15 of Ostrom's drawings of combat and camp life, which should be especially useful to students completing Exercise 3, below. Caution to teachers: Some students may be sensitive to the combat scenes.
Read "George Ostrom's War: A Wyoming Soldier Serves in France"
Exercises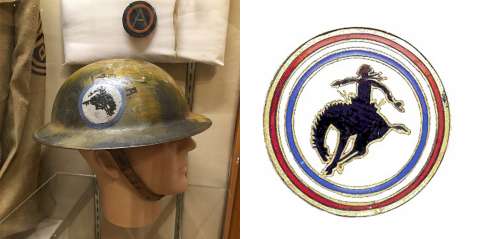 2. Draw Your Own Badge
Suitable for 4th grade through 12th grade.
Students use the shape provided to draw their own representative badge. We learned from Staff Sgt. Ostrom's story that the inspiration behind Wyoming's iconic bucking horse symbol was his own beloved colt, Redwing. In this activity, students can use markers, colored pencils or paints to create their own badges, using any images or symbols that appeal to them. After students are finished, ask them to explain what they included in the badges and why.
3. Write a Letter Home
Suitable for 4th grade through 12th grade.
Imagine you are Staff Sgt. George Ostrom, serving in France with the 148th Field Artillery during World War I. In the gallery of 15 pictures posted with the WyoHistory.org article on George Ostrom at https://www.wyohistory.org/encyclopedia/george-ostroms-war-wyoming-soldier-artist-serves-france, choose two or three that you like best. Study them closely, using this photo analysis page. Write a letter home to your family or a friend, as though you were enclosing the drawings for them to see. Describe the pictures, and tell how you came to make them: What was going on? What sounds or feelings do not show in the picture?