Black Kettle, Black Elk and an attempt at reconciliation
May 12, 2021
After the Indian Wars, White people in the West seem to have found a number of ways to harass and kill Native people. In 1895, a posse of non-Indians, mostly outfitters, attacked a peaceful band of Bannocks hunting elk south of Jackson Hole; two native people died. 
In 1906, a large band of Utes left their reservation in Utah and crossed Wyoming, hunting and drying meat as they went—and causing great alarm among civil officials, the general public and especially in the newspapers. Eventually the Utes were met in southern Montana by 1,000 U.S. troops, persuaded to go to South Dakota for a while and after 18 months to return home.
Three years earlier, on Lightning Creek northeast of Douglas, Wyo., in 1903, a sheriff's posse attacked a peaceful group of Oglala Sioux from the Pine Ridge Reservation in South Dakota; two posse members and five Sioux were killed. The Oglalas had come to Wyoming to  gather herbs, roots and berries, and may have been hunting antelope as well.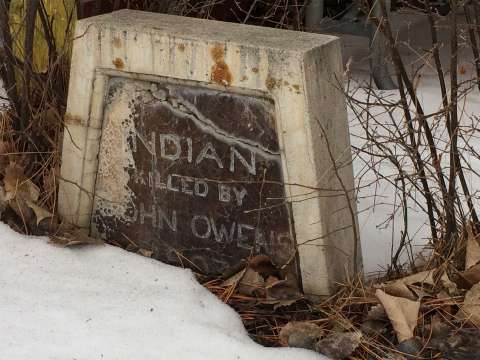 In about 1936, a group of Oglala men from the Pine Ridge Reservation performed the astonishing feat of finding the graves of their dead on the site, going by an account dating from the time of the burials. But by the late 1920s, White ranchers had already moved the skull and bones of Black Kettle, a member of the band, to the Wyoming Pioneer Memorial Museum on the grounds of the Wyoming State Fair in Douglas. There, they displayed Black Kettle's skull in a showcase and buried the bones behind the museum.
A group of Oglalas from Pine Ridge visited the fair in about 1936 or 1937 and identified Black Kettle's skull by the bullet hole in it.  When they learned where his bones were buried, they requested permission to take all the remains back to the reservation for a proper burial.
Instead, longtime history buff L.C. Bishop at the museum suggested the remains be reburied in a public ceremony during the week of the fair the following year—and the Oglalas agreed. Performing the ceremony was Black Elk, by then 75 years old. Black Elk was the Oglala holy man who collaborated with Nebraska author John G. Neihardt on the book Black Elk Speaks, still today regarded as a classic in the literature of world religions.
For much more on how these connections came about, and what they say about changing relations between Whites and Indian people in Wyoming at that time, see Rebecca Hein's recent article, Black Elk, Black Kettle and the Wyoming State Fair. Hein is assistant editor of WyoHistory.org.