Drawn to the archives—and a crime
By Robin Everett
(Editor's note: Robin Everett, an archivist at Wyoming State Archives, is author of "Milward Simpson and the Death Penalty," just published on WyoHistory.org.)
I was born and raised in Wheatland, attended school there through junior high and then, after many years in Colorado, was able to return to Wyoming in 1998 when I transferred to Cheyenne with my work at AT&T.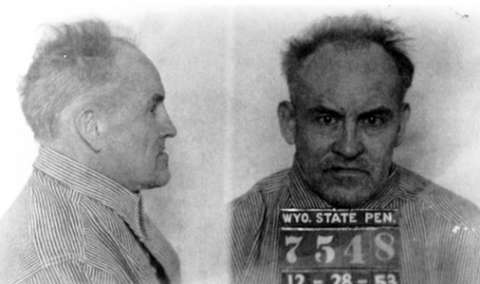 Wanting to learn more about my home town, I began reading the Wheatland newspapers on microfilm at the Wyoming State Archives. For a while, there were two papers, the Platte County Record and the Wheatland Times. Sometimes I even took a day off work to spend uninterrupted time in the microfilm reading room, scrolling. Now and then I'd find an article that mentioned a family member, or friends or an event I may or may not have heard about. I still have the blue spiral notebook filled with many pages of notes about these articles.
So perhaps you can imagine the shock I experienced when one day I turned the crank on the manual microfilm reader and saw the headline, "Riggle Held Here for Double Killing" (Wheatland Times April 2, 1953) and the headline in the Platte County Record, "Riggle Captured Monday Night after 48 Hour Search."
I had never heard anything about this crime. Granted it took place before I was born, but still I had not heard about it growing up. Reading about it, I came to realize Tricky Riggle had to have known my paternal grandfather. They both were on the rodeo circuit. Once I made this discovery I had several conversations with an older sister, still living in Wheatland, and with my brother-in-law about the crime and the legal case. I veered off from the family newspaper project and started looking more at the crime, Tricky, the trial, and his commutation—which led me to Gov. Milward Simpson.
I believe it was a conversation I had with one of Tricky's lawyers, Don Sherard, who mentioned that Gov. Simpson's commutation of Tricky's sentence cost him his bid for re-election in 1958. This I found mind boggling: How could this crime in small, sparsely populated Platte County take down a governor?
Back I went to the newspapers, but this time the topic was Gov. Simpson. In reports of the election results, there were hints of other issues Simpson faced: gambling in Teton County, the proposed route for I-90—and taxes, especially the veterans' exemption. One of the archivists at State Archives suggested I check out Simpson's papers at the American Heritage Center in Laramie. Road trip!
I made more than one trip to Laramie to research Simpsons' papers, which in the index alone gave hints of the 1958 election issues. Now I've spent many years researching his papers, the newspapers and other records at the State Archives, and I'm still not convinced his decision to commute the Riggle sentence cost him his re-election. I do know one thing though, it's something he and his family believe, no matter what the numbers say.