Hemingway in Wyoming
Ernest Hemingway, if you haven't noticed, is back in the news. Ken Burns's and Lyn Novick's new, six-hour documentary about the writer and his life debuts this week on PBS.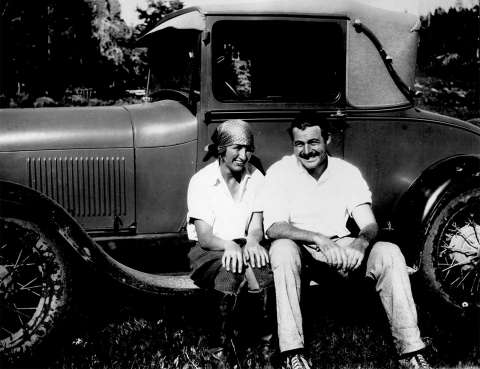 Given to broad, brief statements, Hemingway supposedly told Elsa Spear Byron of the Spear-O-Wigwam dude ranch in the Bighorns, "There are two places I love—Africa and Wyoming."
Hemingway visited Wyoming many times, often for months at a stretch. He came to Wyoming to fish, hunt and write. But he never made a life here, or in Africa, either, for that matter. In fact, unlike other great writers of his time, writers with whom he's often spoken of in a single sentence—Pound, Joyce, Faulkner, Woolf, Fitzgerald—Hemingway seems always to have been on the move. His life was full of travel, elation, work, drink, wrecks, despair and a great, sad love for the physical world as it is—or as he thought it was, or as close as he could make it in his paragraphs.
The Wyoming chapters of the writer's life, authors Jamie Egolf and Chavawn Kelly note on WyoHistory.org, "span the entirety of his adult life yet have been accorded only passing significance. . . [S]cenes of hunting, a wedding, miscarriage, injuries and physical degeneration all found Wyoming settings. Friendships grew, he fished with his sons, and he wrote much of his best work here—with great energy, productivity, and vividness." He finished A Farewell to Arms at the Folly and Spear-O dude ranches west of Sheridan in 1928, and in 1936 wrote parts of To Have and Have Not on the L Bar T in Sunlight Basin. Other scenes in stories and novels have distinct, Wyoming settings.
But you'll find much more in Egolf and Kelly's article, Ernest Hemingway in Wyoming. It's a remarkable story. What else could it be, given its subject?
If you missed the initial airing of the PBS documentary, you can stream it along with lots of extra features at PBS Passport. And mark your calendar now—the international Hemingway Society will hold its biennial conference at Sheridan College and in Cooke City, Mont., July 17-23, 2022. The gathering was originally scheduled for July 2020, but postponed because of Covid. Wyoming Humanities is one of the principal sponsors.