Two Writing Ranchwomen
February 17, 2021
By Rebecca Hein
Living on a ranch before ranches had electricity or mechanized equipment is not something people often think about now. But these on-the-spot records from just a century ago remind us how much things have changed—how hard, especially, these people had to work—and what we can learn from the past.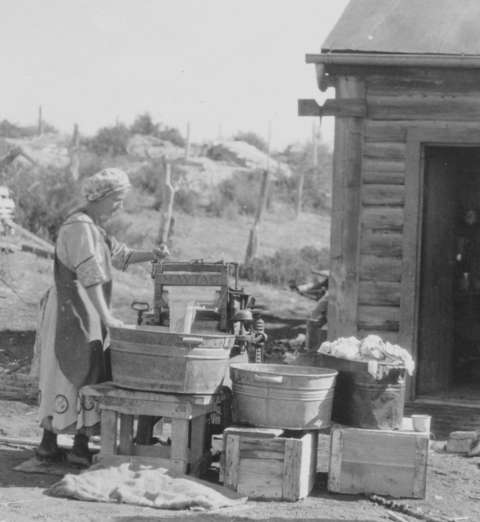 Two ranchwomen writers have left clear descriptions of their lives and daily routines, including the hardships they and their families endured. Both also wrote about people and events in the area, going beyond their own home lives.
National curiosity about the American West fueled the success of Elinore Pruitt Stewart's letter-writing. Stewart homesteaded first alone and then with her husband in southwest Wyoming, starting in 1909. She described ranching as suitable for "persons [un]afraid of coyotes and work and loneliness." Clearly happy with her life, she wrote letters to a former employer about her thoughts and her daily work. Mrs. Coney, the recipient, eventually showed Elinore's letters to the editor of the Atlantic Monthly, where they were published starting in October 1913. The next year, the letters were published together in a book.
Ethel Waxham Love, though not as widely published as Stewart, was better educated. Love too recorded her thoughts and descriptions of ranch life at about the same time in an arid spot at the center of the state in a vivid, engaging style. Eventually her granddaughters collected Ethel's letters and reminiscences and published them in two books.
She could capture in a few words the heart of major events. In the winter of 1919-1920, her husband and one son ill for months with the flu, all the chores fell to Ethel and 8-year-old Allan. Years later, she wrote of that winter, "In the numbing cold it took me five hours a day to bring in fuel, carry water and feed to the chickens, and to put out hay and cottonseed cake for the cattle and horses that came crowding about the corrals to be fed. Allan kept them from me with a stick. . . . When the barn door was frozen shut, his efforts with mine broke it loose."
Although differently educated, these two talented women contributed substantially to our picture of how people lived in their time.
For more, read Elinore Pruitt Stewart, Writer and Homesteader, by Barbara Bogart, and The Sticking Power of Ethel Waxham Love, by me, Rebecca Hein.