The Old West's Female Champion: Caroline Lockhart and Wyoming's Cowboy Heritage
The Old West's Female Champion: Caroline Lockhart and Wyoming's Cowboy Heritage
Published:
November 8, 2014

The living room of Caroline Lockhart's house in downtown Cody boasted mementos of Western adventures. A bearskin rug covered the floor. A tamed wildcat prowled the premises. On the wall hung a portrait of "Sourdough Sam," the old outfitter who had accompanied Lockhart when she became the first woman to cross Swiftcurrent Pass in what is now Glacier National Park.
On the evening of April 20, 1920, six of Cody's leading citizens gathered in the room. These included Ernest J. Goppert, Sr., an ambitious young attorney; Irving H. "Larry" Larom, the Princeton-educated owner of a prominent dude ranch; Sid Eldred, editor of the Park County Enterprise (a newspaper founded by William F. "Buffalo Bill" Cody himself), and Clarence Williams and William Loewer, who helped run the town's small Fourth of July celebrations. And there was Lockhart: a nationally bestselling novelist with a flair for publicity. In the three years since the death of Buffalo Bill, she had become the biggest celebrity in Cody. In fact, she had arguably attained her goal of becoming "the best known woman west of the Mississippi."
Although she is little known today, 1920 marked perhaps the peak of Lockhart's fame. Her novels The Fighting Shepherdess and The Man from the Bitter Roots had been made into major movies. She had recently completed a stint as celebrity journalist at the Denver Post, a newspaper with region-wide circulation. And she had just returned from Hollywood, where she had met with dashing actor-producer Douglas Fairbanks about adapting her nearly completed novel The Dude Wrangler.
She was almost 50 years old (born February 24, 1871, in Eagle Point, Illinois), but heavy blonde hair and a shapely figure made her look decades younger. Many men desired her, and though she never married, she often juggled multiple boyfriends. This offended some conservative Codyites, along with the fact that she drank—when three-quarters of the town had voted for Prohibition — and aimed her biting, sometimes cruel wit against her many "enemies." She was, in short, a controversial figure, but a woman with the passion, gumption, and money to get things done.
The folks at this meeting wanted to organize a new celebration, something bigger than the town had ever known. It would be more than a Fourth of July party, more than a rodeo, more than a street dance. It would be an event to entertain tourists driving the newly opened road to Yellowstone National Park and lure visitors to area dude ranches. Most important, it would be an event to bring back the "Old West."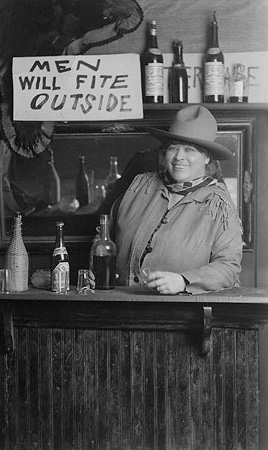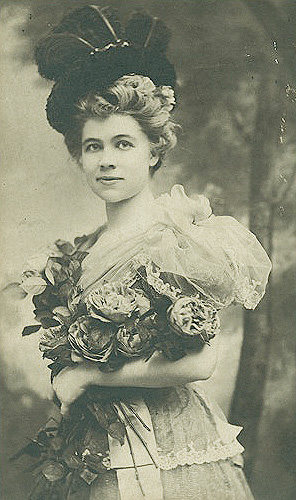 The first 20 years of the 20th century had been a remarkably forward-looking time, in Wyoming and across the West. Homesteaders started thousands of new dryland farms; agricultural prices were high and droughts rare. Oil replaced gold and silver as a resource that could create both booms and boomtowns. Railroads continued to expand, and were increasingly complemented by paved automobile roads. Electricity, telephones, and motion pictures made life increasingly comfortable—and made the totems of bygone eras seem irrelevant. Who needed horses? Why would anyone care about Crow Indians? Why should Wyoming pay more than cursory respect to Buffalo Bill, whose old triumphs had since been tarnished by a divorce and financial ruin? There was no point in looking back when the future looked so bright. The Western frontier — like the Midwestern frontier before it — would soon be chock full of farms and industry.
But Lockhart was more sentimental. She had a passion for the old open-range cattle ranches, before they'd been fenced into dryland farms, she admired the old characters who'd been tough enough to live through those raw days, and she loved — absolutely loved — horses.
In a sense Lockhart's passions matched those of other early Western novelists, such as Owen Wister (The Virginian) or Zane Grey (Riders of the Purple Sage). But there were two key differences. First, few other writers lived fulltime in the West. Thus their depictions were shaped by the romantic illusions of what Easterners wanted the West to represent. Lockhart — though quite a romantic herself — had lived in Cody since 1904, and thus brought a certain authenticity to her work. Second, where other writers nostalgically set most of their tales of cowboys and rustlers in the Old West of the 1880s, Lockhart's novels were always set in contemporary times. It was as if she was saying to the world (but especially Wyoming): Look, we can still live in such a paradise.
The folks meeting at Lockhart's house decided to call their event "the Cody Stampede." (They didn't want to include "rodeo" in the title because that "sounded like a dude word and besides we did not know how to pronounce it," Lockhart later joked.) They elected Lockhart the organization's president and set out to raise funds. They also sought to attract top rodeo contestants, including one of Lockhart's boyfriends, champion bulldogger Pinky Gist.
The following week Lockhart hosted another meeting with life-changing results: this one led to her purchase, with four partners, of the Enterprise. She quickly took control and used the newspaper to promote the Stampede. The combination proved a huge success, both for the town of Cody and Lockhart personally. The Stampede grew through its early years. Its fundraising ball, held in late fall, was also a success — especially after Lockhart invited some Crow Indians to appear in traditional dress.
People had renewed fascination for Indians, who were rarely seen in Cody except by such invitation. The fascination started expanding to other aspects of the frontier. In contrast to the century's first two decades, the early 1920s in Wyoming was a difficult time economically, with droughts, plummeting agricultural prices, and closing banks. Suddenly the arguments of Lockhart and her cohorts — to capitalize on Wyoming's unique cowboy heritage, rather than letting the state develop into a place just like anywhere else — became increasingly persuasive. Lockhart next proposed a gigantic statue of Buffalo Bill, to be sculpted by Gertrude Vanderbilt Whitney, one of the country's most famous artists. The townspeople supported her, though they couldn't afford Whitney. So Lockhart pestered the sculptor until Whitney agreed to both make the statue and raise the required funds. Whitney's fundraising campaign — conducted among New York City's wealthiest classes and top publications—did much to establish Buffalo Bill's nationwide posthumous reputation.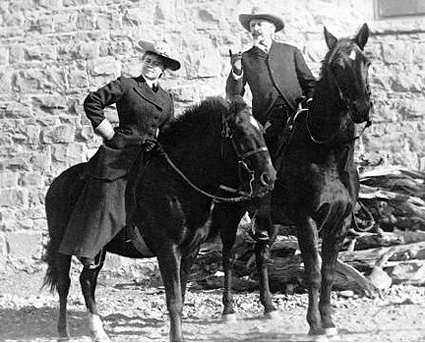 Though Lockhart at first loved this new life at the helm of a changing Cody society, after a few years she tired of it. One problem was that she failed to grasp the effect she was having. It's easy to see today, as the Cody Stampede ranks with Cheyenne Frontier Days and the Pendleton (Ore.) Roundup among the nation's premier rodeos, and as the Buffalo Bill Historical Center and dozens of Old West–themed businesses mark Cody as a Mecca of American frontier nostalgia, with a profound impact across the West.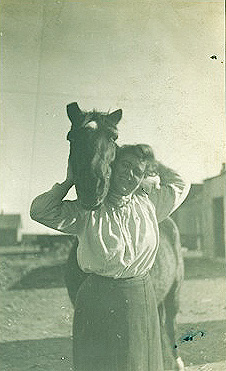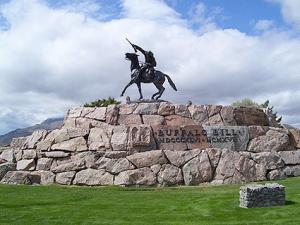 Nonetheless, as Stampede president, Lockhart was caught up in day-to-day frustrations. She felt, for example, that local merchants didn't provide enough support to an event that brought them so much business. She had similar disappointments as Enterprise editor and owner. (Bristling at incompetence, she soon bought out her co-owners and fired editor Eldred.) Her many unpopular political positions made enemies and dampened profits, and she felt constricted by the paper's weekly routine. She had stopped writing novels, and too often only got to ride her horse on the four blocks from home to office.
Through her novels, the Stampede, the Cody Enterprise newspaper (which she owned), and her work memorializing William F. "Buffalo Bill" Cody, Lockhart made an impact on her town and the West in general. But she did it all because she loved the Old West — especially horses — and in 1925 she "retired" to homestead her very own ranch north of Lovell. (Photo courtesy of American Heritage Center, # ah003135)Lockhart had tried to re-create the Old West in her imagination, through her novels. Then she'd tried to re-create it in an entire community, through the Stampede. But she had done all of this because she wanted to live, herself, on an Old West cattle ranch. Finally in 1925 she realized that the best way to do so was to homestead a spread of her own. She found the most remote spot she could: across the Montana line north of Lovell, on a shelf between the Pryor Mountains and the Bighorn Canyon. There she established the L Slash Heart ranch and pursued her lifelong quest, hidden largely from public view.
In 1950 Lockhart decided she (age 79) and her then-boyfriend (age 77) were too old to run a ranch. So she sold it and moved back to Cody, where she lived in obscurity. She bought one of the first television sets in town, and invited neighborhood children over to watch "Hopalong Cassidy," a show based on a set of novels that, in the 1910s, had been considered inferior to her own. There was no funeral after Lockhart died on July 25, 1962. Instead she had requested that her ashes be scattered over "the most convenient peak."
Resources
Primary sources
Secondary sources
Online
Illustrations