Area 6:  Westward Expansion and the United States (1840s-1890s)
Question:  How did expanding westward affect tensions within different regions of the U.S.?
Background for teachers and students:
In the summer of 1862, the famous mountain man Jim Bridger guided Col. William Collins and a small detachment of troops from Platte Bridge Station, at present Casper, Wyo., west up the Oregon Trail to South Pass, around the west side of the Wind River Mountains, then back east over Union Pass to link up with the Oregon Trail and back to the army post where they began.
Bridger by then was in his late 50s, nearing the end of a long career trapping beaver throughout the Rocky Mountains, later running a prosperous trading post catering to covered-wagon pioneers and, most recently, guiding U.S. Army expeditions exploring the northern Rockies and plains. He was thus well known in army circles, among old-time trappers and traders and among American Indian tribes, especially the Shoshone. He had lived at different times with three different wives—one Flathead, one Ute and one Shoshone—and probably knew tribal languages as well as English, French and Spanish.
Beginning in 1849, Bridger guided army exploring expeditions under Lt. Howard Stansbury to Great Salt Lake in 1849-50; under Lt. G.K. Warren to the Black Hills of Dakota and the Yellowstone River in 1856; under Capt. William Raynolds in 1859-1860 to the Powder River country in present-day northeastern Wyoming and under a civilian  surveyor, Edward Berthoud, in 1861 to passes in the Colorado Rockies.  
Immediately after the Civil War ended in 1865, the Army resumed its pursuit of the Cheyenne, Lakota Sioux and Arapaho tribes. Officers relied heavily on the reports of the Warren and Raynolds expeditions for reliable geographical information. Bridger's vast geographical knowledge, via the expeditions he guided and the reports their officers wrote, was thus put to use to help subdue Indian people as more and more Euro-Americans came into the West.
In 1862, meanwhile, according to at least one account, Bridger, while on his trip with Collins to South Pass, drew a map of the West in the dirt. The country mapped runs  north from South Park, Colorado to the Yellowstone River of Montana, and west from the forks of the Platte in present Nebraska to the headwaters of the Green River—meaning that it includes nearly all of present-day Wyoming, and much more.
This map eventually was transferred to paper in great detail by Col. Collins' 17-year-old son, Caspar Collins, who accompanied his father on the 1862 trip as a draftsman and later was commissioned an officer. Caspar Collins's re-drawing of Bridger's map has survived in the collections of the American Heritage Center at the University of Wyoming. It gives us a look at how Bridger—who may well have had the widest, most detailed knowledge of anyone at the time of the geography and topography of what's now Wyoming—kept that knowledge in his head.
The map also allows us to consider how Bridger's knowledge was put to political use, that is, to aid in the eventual conquest, by Euro-American people and cultures, of the tribes that already lived here.
The article linked below, "A Map of the West in his Head: Jim Bridger, Guide to Plains and Mountains" offers substantial background on the topic for teachers and for students 8th grade and up. The article may be demanding for 6th and 7th graders.
Read "A Map of the West in His Head: Jim Bridger, Guide to Plains and Mountains"
Exercises
Carefully read "A Map of the West in His Head: Jim Bridger, Guide to Plains and Mountains,"  by James Lowe on WyoHistory.org at http://www.wyohistory.org/encyclopedia/jim-bridger.  
1. Examine carefully the American Heritage Center's copy of Caspar Collins' hand-drawn version of Jim Bridger's map of the northern plains and Rocky Mountains.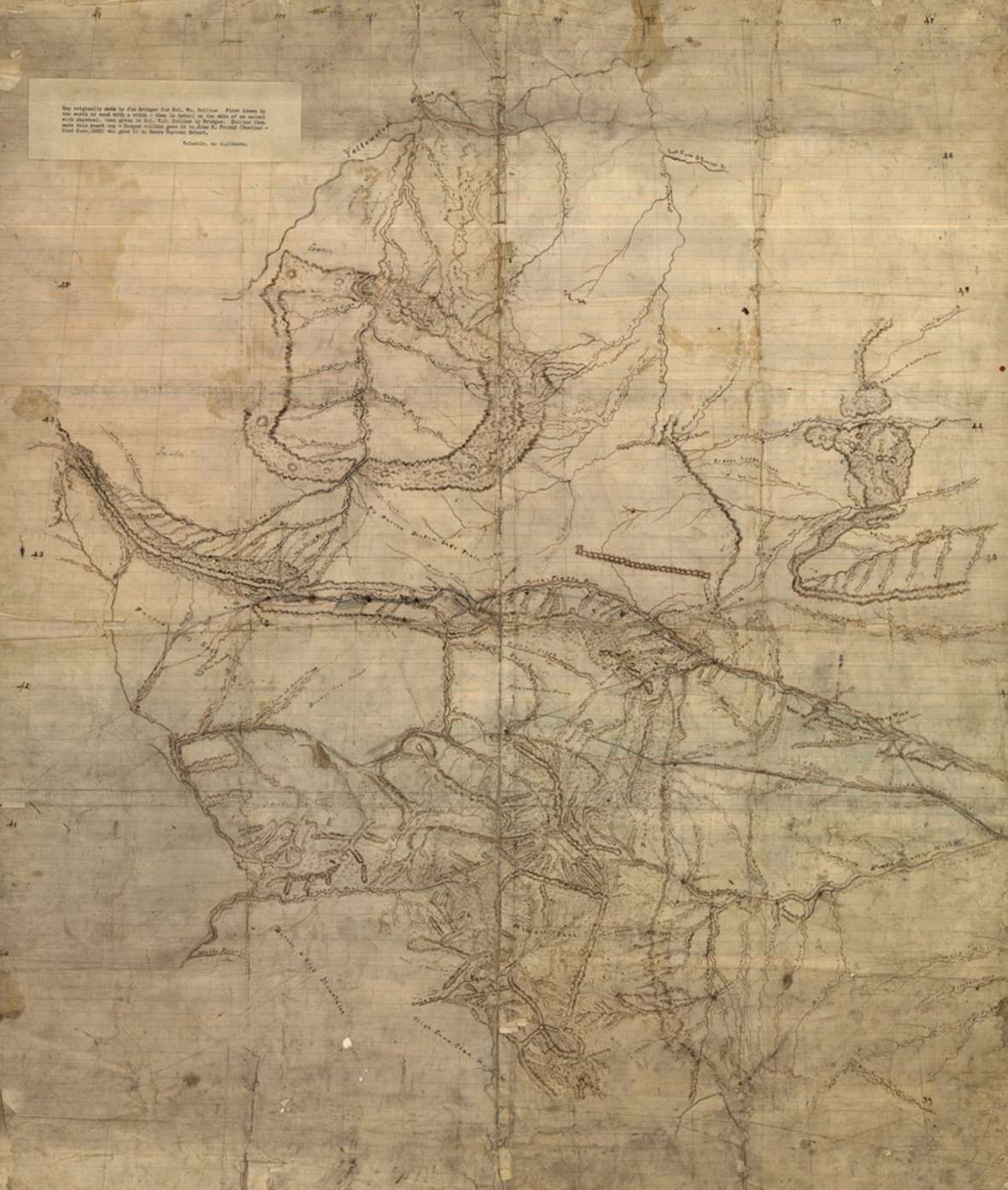 2. Examine carefully the map by Troy Campbell that overlays the Bridger map with a modern map of the topography of the same area.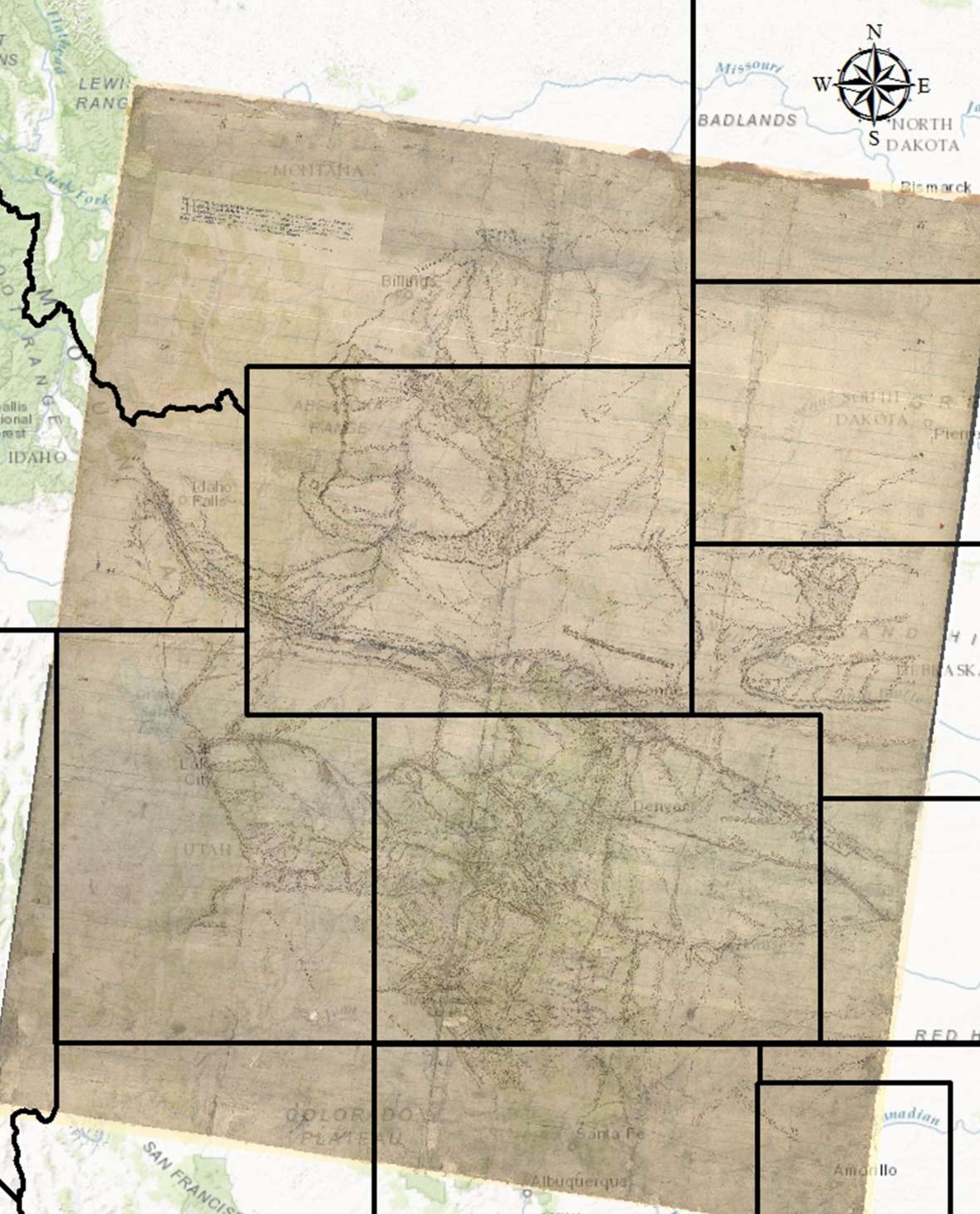 3.Examine carefully the map by Troy Campbell, "Bridger's Historic Trails," which shows the routes of Army expeditions guided by Jim Bridger in the northern Rockies and plains.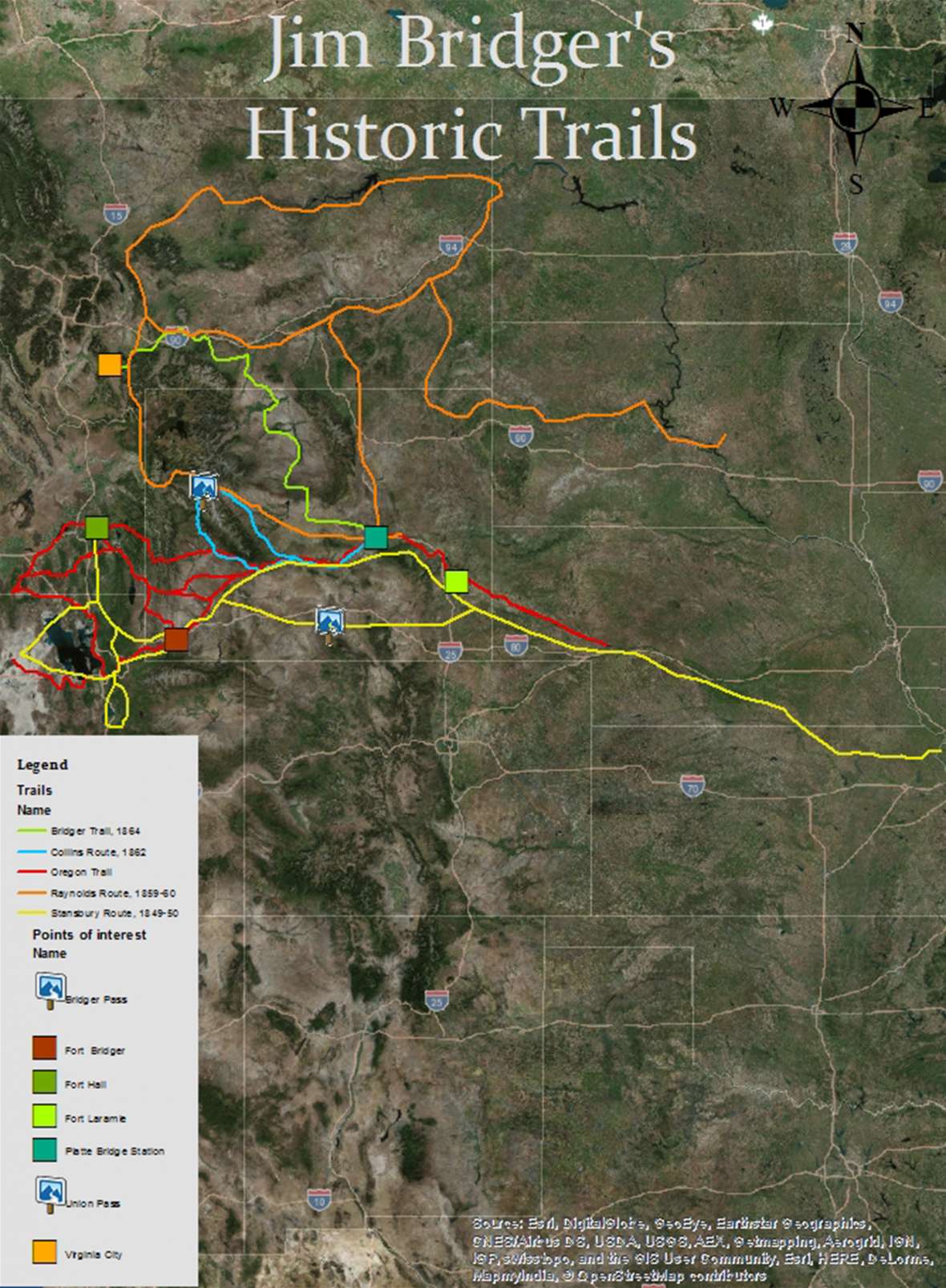 5. Write a brief  (300-450 words) essay on one, some or all of these questions. Use examples from the maps or from the text of the article to defend or explain your answer.
How can a map be used as a tool of exploration?
How can a map be used as a tool of conquest?
Do maps keep people safe when they are traveling in unfamiliar areas?
Which people does it protect, the newcomers, the people who already live there or both?
Resources—For further reading and research
Bagley, Will. "Fort Bridger." WyoHistory.org, accessed Dec. 15, 2016 at http://www.wyohistory.org/encyclopedia/fort-bridger. Frontiersman Jim Bridger and his partner, Louis Vasquez, established Fort Bridger in 1843 to serve travelers on the California/Oregon Trail and the Mormon Trail. Tensions later arose between Mormon settlers, who first arrived in 1847, and Bridger. The fort came briefly under Mormon control, and in the late 1850s became a U.S. Army post, which the army finally abandoned in 1890. Today, the fort is a state historic site, with reconstructed buildings, an interpretive archeological site, and a museum.
Lowe, James A. and Wyoming State Historic Preservation office.  "The Bridger Trail: A Safer Route to Montana's Gold." WyoHistory.org, accessed Dec. 15, 2016 at http://www.wyohistory.org/encyclopedia/bridger-trail. In 1864, Jim Bridger blazed a trail to the Montana gold fields. It stayed west of the Bighorn Mountains to avoid trouble with Indian tribes. Wagons traveled the full route only that year, but in later decades it became an important way into the Bighorn Basin for white settlers.
_______________________________________________. "A Map of the West in His Head: Jim Bridger, Guide to Plains and Mountains." WyoHistory.org, accessed Aug. 8, 2016 at http://www.wyohistory.org/encyclopedia/jim-bridger. Jim Bridger's skills as guide, mapmaker and businessman were unmatched. After 20 years trapping beaver in the northern Rockies, he co-founded Fort Bridger in 1843. In the 1850s and 1860s he guided important government exploring expeditions and guided troops on Indian campaigns. In 1868 he retired to Missouri, where he died in 1881.